See also ...

RighteousJews.org was last revised on January 7, 2013
RighteousJews.org
was begun in 2003 as a way to commemorate the memory of those Palestinians who have been, and continue to be depopulated, dispossessed, humiliated, tortured, and murdered in the name of political Zionism and its quest to create a Jewish state in the lands between the Mediterranean and the Jordan River. From its founding in 1897 the Zionist endeavors to "pump in" Jews and "pump out" Palestinians from this land have been the root cause of bloodshed and conflict. These racist endeavors have also been deeply problematic for those who believe in the basic tenets of Judaism of the prophets, namely justice and a duty to heal the world.
RighteousJews.org
was created to honor those who consider themselves to be Jewish and who have worked for the human rights of non-Jewish Palestinians.
RighteousJews.org
was inspired by the website of the most famous Holocaust museum at
Yad Vashem
, located on Mt. Herzl on the lands of the Palestinian village of Ein Karem 1,400 meters south of the Palestinian village of Deir Yassin. Yad Vashem lists the names of over 19,000 non-Jews who risked their "lives, freedom, and safety in order to rescue one or several Jews from the threat of death or deportation to death camps without exacting in advance monetary compensation." For many years this list was referred to as the list of "Righteous Gentiles." Today it is more politically correct to refer to those who have made the list as the Righteous Among the Nations." According to the Yad Vashem website, "A person recognized as a 'Righteous Among the Nations' is awarded a specially minted medal bearing his name, a certificate of honor, and the privilege of his (or her) name being added to those on the Wall of Honor in the Garden of the Righteous at Yad Vashem in Jerusalem. (The last is in lieu of a tree planting, which was discontinued for lack of space.)"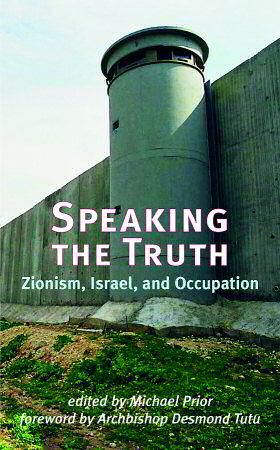 Speaking the Truth
Zionism, Israel, and Occupation
edited by Michael Prior
Foreword by Archbishop Desmond Tutu



"In our struggle for justice and peace in South Africa we had to learn to speak-and listen to-hard truths. Our experience should encourage all who strive for justice and peace in the Holy Land. My visits to the Holy Land remind me so much of South Africa: apartheid is back, complete with the 'Separation Wall' and bantustans. History, it seems, repeats itself. Yet, if peace could come to South Africa, surely it can come also to the Holy Land. I welcome this book that exposes some of the hardest truths about Israel-Palestine. The distinguished contributors-from Israel, Palestine, the US, the UK and Ireland, women and men, Jews, Christians and Muslims-speak their Truth. Reconciliation will follow later."


From the Foreword by Archbishop Desmond Tutu



In this collection of original essays, 12 internationally respected scholars and experts examine the ethical and strategic issues of the Palestine-Israel conflict, and offer us a rare window into the realities behind Israel's military occupation. It is an essential resource for anyone who wishes to understand the causes, underlying tensions, injustices and the tragically ongoing occupation.

CONTENTS

a. FOREWORD-Desmond Tutu
b. ZIONISM AND THE CHALLENGE OF HISTORICAL TRUTH AND MORALITY-Michael Prior
c. ZIONISM, CHRISTIANITY AND THE ISRAELI-PALESTINIAN CONFLICT-Herman Ruether and Rosemary Radford Ruether
d. STATE OF DENIAL: THE NAKBAH IN ISRAELI HISTORY AND TODAY-Ilan Pappé
e. WHY WE REMEMBER DEIR YASSIN-Daniel McGowan
f. THE INTERNATIONAL CHRISTIAN EMBASSY, JERUSALEM: A CASE STUDY IN POLITICAL CHRISTIAN ZIONISM-Stephen Sizer
g. MAINSTREAM CHRISTIAN ZIONISM-Peter Miano
h. POLITICS AND MULTI-FAITH IN THE HOLY LAND: A CHALLENGE FOR CHRISTIANS- Duncan Macpherson
i. THEOLOGIZING, TRUTH AND PEACEMAKING IN THE PALESTINIAN EXPERIENCE-Jean Zaru
j. SPEAKING THE TRUTH TO JEWS-Paul Eisen
k. THE RIGHT OF RETURN AND ITS DETRACTORS-Naseer Aruri
l. WAKING THE SLEEPING GIANT-Betsy Barlow

Rev. Dr. Michael Prior, CM, is Professor of Bible and Theology at St. Mary's College at the University of Surrey in England, where he is also Senior Research Fellow in Holy Land Studies. He is the editor of "Holy Land Studies: A Multidisciplinary Journal" and the author of numerous books, including Christians in the Holy Land (1994), Western Scholarship and the History of Palestine (1998), Zionism and the State of Israel: A Moral Inquiry (1999), Holy Land - Hollow Jubilee: God, Justice and the Palestinians (1999), and They Came and They Saw: Western Christian Experiences of the Holy Land (2000).

5 1/2" x 8 1/2" . 256 pages . paperback . ISBN 1-56656-577-4 . $17.95

Michel Moushabeck, Publisher/Editor
Interlink Publishing · 46 Crosby Street · Northampton, MA 01060 USA
Tel: 413-582-7054 · Fax: 413-582-7057 · e-mail:

[email protected]